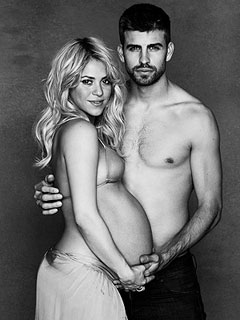 Shakira is a new mom!
Baby Milan was born Tuesday morning about 9:30 am, weighing in at 6lbs. 6oz. The singer and her boyfriend, professional soccer player Gerard Piqué, shared their happy news via a messsage
posted to Shakira's website
on Tuesday.
"We are happy to announce the birth of Milan, son of Shakira Mebarak and Gerard Piqué, born January 22nd at 9:36pm, in Barcelona, Spain. The name Milan (pronounced MEE-lahn), means dear, loving and gracious in Slavic; in Ancient Roman, eager and laborious; and in Sanskrit, unification. "
Shakira hinted that she could be giving birth today -
she tweeted
to her 19 million plus followers early Tuesday,writing "I'd like to ask you all to accompany me in your prayers on this very important day of my life. Shak"
Last week Shakira invited fans to a virtual baby shower to support UNICEF.