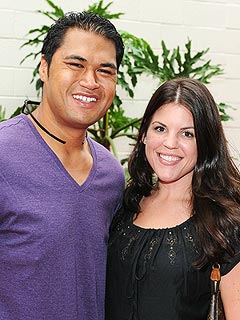 The Biggest Losers
' Sam and Stephanie Poueu are having a baby! The couple met and fell in love while participating in the ninth season of the popular TV show. The baby is due in July, and will be their first child together.
Poueu, 27, proposed to Anderson Poueu, 33, during the filming of a special episode of
The Biggest Loser
in 2010. A year later, he suffered a fall from the roof of a four-story building, which left him in critical condition with serious injuries, including a punctured lung and shattered pelvis.
Poueu's spent months recovering from the accident.
"He said early on that he lived for me," Anderson Poueu
admitted
shortly after the incident. "He wanted to be married to me. He wanted to have children with me and grow old with me."
The couple married in April 2012, and now with their baby announcement, it looks like Poueu has gotten his wish!
Image: FRAZER HARRISON/GETTY