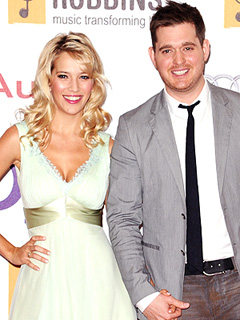 Michael Buble and his wife are having a 'Mini-Buble!' The couple made a
cute video message
announcing the pregnancy - it shows an ultrasound with what sounds like the parents-to-be laughing happily, followed by Buble singing snippets from his popular hit song, "
Haven't Met You Yet
."
Married in March, 2011, the couple enjoyed three different marriage ceremonies - the first was a small civil ceremony in Buenos Aires, followed a few days later by a second ceremony in front of 300 friends and family. The couple's third wedding ceremony was held two months later
at Vancouver's Pan Pacific Hotel.
Buble has previously mentioned that he would 'love' to have kids with his wife, but that the decision of when to start a family would be hers to make,
"But I always say to her when you're ready -- when you feel like you've lived and you've partied and done all the things you want to do. When you've worked your butt off, then tell me."

Image: SNAPPERS/ZUMA