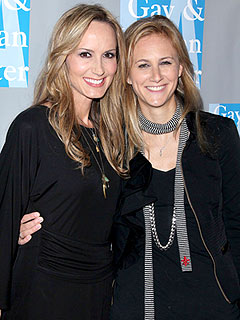 Identical twins are on the way for Country singer Chely Wright 42, and her wife Lauren Blitzer-Wright.
We're excited to be parents and we hope we don't mess it up too badly!" Wright
says
. "The twins are due in July but "with identical twins they typically have to be delivered a month early," she added.
The couple met in 2010 and were married a year later in Connecticut. Blitzer-Wright says she and Chely feel very ready and excited to become parents.
"We feel like God blessed us with twins." "We feel our entire relationship has been blessed. We feel lucky and ready to take on the challenges."
Image: JIM SMEAL/BEIMAGES