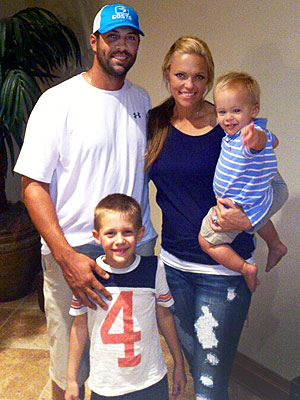 Jennie Finch and her husband, pitcher Casey Daigle, are getting ready to welcome a new baby daughter to their family!
The couple are parents already to sons Diesel Dean, 14 months, and
Ace Shane, 6.
The retired Olympian softball player admits
her third pregnancy
has been a bit tougher than her first two, but she and Casey are thrilled to be adding some pink to their brood:
"Having two boys this go around, I've noticed that this pregnancy has been a little harder on me physically. I have to remind myself why I am so tired at times — being a working mom just like so many out there, you have to just keep pressing onward. My doctor described it as "survival mode for the first trimester" and I often still feel this way even though I'm into the second trimester."
"We are so excited about our little darling inside of me. We are so beyond grateful for our boys, but it will be fun to add some pink in the mix. People always said, "Don't you want a girl?" My reply has always been my boys are more than I could've imagined, and I am thankful for whatever we get!"
Source: People.com