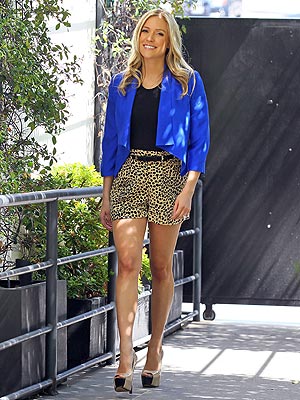 New mom Kristin Cavallari
is following her passion for high heels and is starting her own shoe design venture! Last Sept., the star became an online ambassador for the well-known shoe retailer- Chinese Laundry.
Serving as a guest editor for the trendy shoe line's website, she brought her own style and fashion savvy to the site via videos, styling tips and product picks, starting this fall.
Now, Cavallari will be designing her own collection with the brand starting in December, featuring pumps, flats, booties, platforms and more in a variety of bold colors.
"I wanted to make a line for girls who want to look and feel great, but not spend a fortune,
says
Kristin. It's important for girls to know that you can look amazing at a great price."
But even though she will be launching her own shoe line, the new mom admits she
has not been wearing heels
since late in her pregnancy - and has yet to begin wearing them again since the birth of her son, Camden Jack Cutler, earlier this month.
"I've mostly been wearing my most comfortable clothes — lots of leggings and T-shirts and maxi dresses," she says. "I've been so tired, so whatever is easiest is what I'm wearing."
One might think Kristin has a [very] full plate at the moment. But then, one might be wrong. Apparently there is just enough room to add one more thing: a new jewelry line.
Yep, look for the former Hills star's new jewelry line launching sometime around Valentine's Day (Feb. 2013!)

Photo: CHINESE LAUNDRY