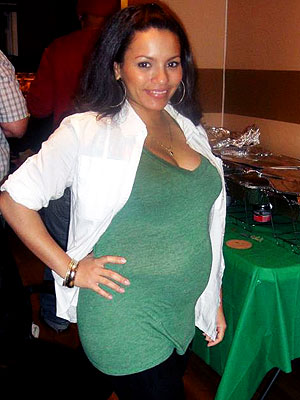 A recent ultrasound gave April Hernandez-Castillo the news she was hoping to hear: she is having a girl!
"I wanted a girl and he wanted a boy, of course I would have been happy either way,"
shared
the actress earlier.
Turns out that the parents to be found out the sex of their baby-on-board by chance - the doctor accidentally let the baby's gender slip during a prenatal exam. But, says April, she and husband Jose Castillo were planning to find out anyway.
"The doctor did not warn us or ask us if we wanted to know the sex," Hernandez-Castillo, 32, says. "She just quietly said, 'Oh, looks like you're having a girl.'
"At first I thought I heard wrong, [but] then she showed us closely it was a girl and I just started to tear up," she recalls. "My husband and mother were in the room as well and it was a room full of joyful tears."
Now that the Person of Interest actress knows she will be welcoming a daughter soon, she is excited to decorate the baby's room - and knows just which color she will be using.
"We are still deciding on a theme for the nursery, but I do know there will be lots of pink!"
Image: Tina Palazzo