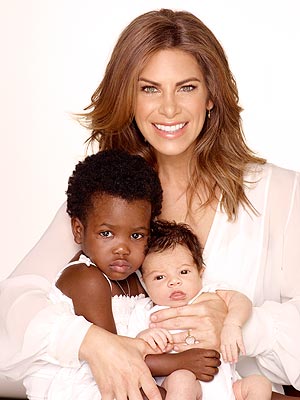 May has been a big month for Jillian Michaels! The trainer from
The Biggest Loser
welcomed a new daughter - adopted from Haiti - and a new son that partner Heidi Rhoades gave birth to on May 3 in Los Angeles.
"We're swimming in babies over here," Michaels, 38, says in an
exclusive interview with People.
In a happy coincidence, Michaels tells the magazine how she was finally able to bring home her new daughter, two-year-old Lukensia, after a long adoption process on May 3 - the same day Rhoades gave birth to the couple's son, Phoneix!
Becoming instant parents to two new babies has kept the couple busy, to say the least. But, says Michaels - they wouldn't have it any other way.
"I don't even answer email. I don't have time to care about anything else," she notes. "I want to be really present and enjoy all the nuances of their growth and development. I don't want to rush any of it."
Read more about Michaels's new life as a mom and to see more images from the exclusive family photo shoot, in the June 4 issue of PEOPLE, on newsstands Friday.
Image: Andrew Macpherson