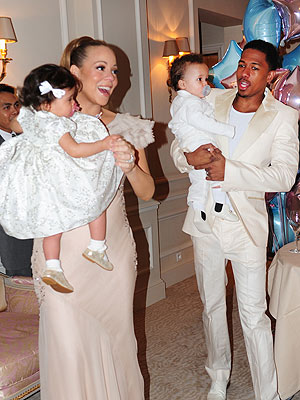 Happy Birthday to Monroe and Moroccan! Mariah Carey and Nick Cannon's twins are one year old. The family celebrated the twins' first birthday in Paris on Sunday, along with several close family and friends.
People.com
reports that the birthday party included custom-made French pastries, lots of balloons, toys and confetti.
Last week, Cannon talked about the milestones his children were reaching as they turned one
"They're trying to walk and I'm nervous because they're at that age when anything can happen,"
says Cannon
."My son has this thing where he loves banging his head and crushing stuff. Something new is happening every day."
Besides celebrating their twins' birthday, Mariah and Nick have more to celebrate as well - the America's Got Talent host says he is now feeling better than ever, and his health is improved since dealing with his
Lupus-like autoimmune disease earlier this year.
"I feel better than I've ever been. I'm in the best shape that I've ever been in," he says. "Since this whole thing has happened, I haven't had any salt, red meat, fast food. [I've only had] chicken and fish. I feel so great. I'm juicing a lot."
Image: Courtesy Cannon Family/People