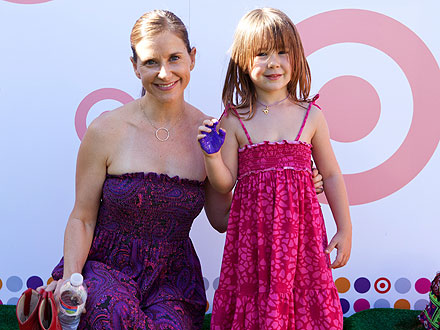 When her daughter Maggie was born in 2006,
Army Wive's
Kellie Martin wanted to design a playroom filled with safe, non-toxic and creative toys. But finding those all-natural 'back-to-basic' toys was a challenge, the new mom soon discovered.
"We weren't doing any plastic or battery toys, but I was having trouble finding stuff," she says.
Through an acquaintance, Martin came upon Romp - an online store featuring the type of green baby and kid toys she had been searching for. The first toy the ER actress bought for her daughter, 8 months at the time, was a wooden camera.
"A friend of mine who's a photographer told me about this little wooden camera that she'd gotten for her daughter at ROMP. So I found it, I ordered it, and that was it --- I was a longtime customer!"
But Martin explains that upon hearing the online store would soon be closing, she became inspired to make an entrepreneurial move and save the store.
"[I thought], 'I can't let it close!'" she says, immediately calling her husband. "I said right away, 'I think we should buy it.'''
Today, Martin makes sure the virtual aisles of her online store are filled a wide variety of super cool (and cute!) wooden toys, fun art kits, and kiddie chic room decor.
And speaking of that wooden camera she bought her now 5-year-old daughter when she was just a baby, the actress tells
CBB
-
"I have such a cool kid and I have loved to see her grow. And I also love to see the way she engages with her toys. That little wooden camera I was telling you about that I got her when she was 8-months-old, to this day - she's now 5 - she still plays with it. She saw these caterpillars who were going into their cocoons and she said, 'Mom, mom, I have to go get my camera.' She ran into the other room, grabbed her camera, and took pictures of the caterpillars."
Martin adds-
"These toys really stimulate their creativity, their minds, and encourages them to use their bodies and be part of this world. As opposed to being plugged into anything technological. I've fought like mad to keep her away from my iPhone and we don't let her touch the computer. I just feel like she has her whole life to do that."
Check out Kellie's entire collection of green baby and kid toys at
Rompstore.com.
Image: Meeno Peluce/Getty