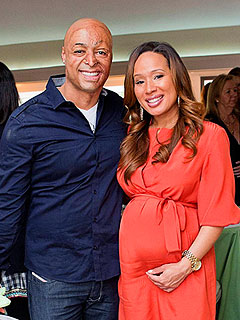 J.R. Martinez and girlfriend Diana Gonzalez-Jones
welcomed their baby daughter
, Lauryn Annabelle, on Tuesday (May 2,) and today the first-time dad is sharing the special meanings behind their baby name choice.
"Her first name, Lauryn, is after Diana's younger sister who passed away unexpectedly earlier this year," Martinez, 28,
explains
. "And her middle name, Anabelle, is after my sister who passed away when she was 6."
The couple decided to give their daughter, whom Martinez affectionately refers to as "our little lamb," unique spellings of their sisters' names so that "she will have her own identity."
In fact, the couple have already nicknamed their little bundle of joy Belle. "It's wonderful to call her by her name, finally," Martinez says.