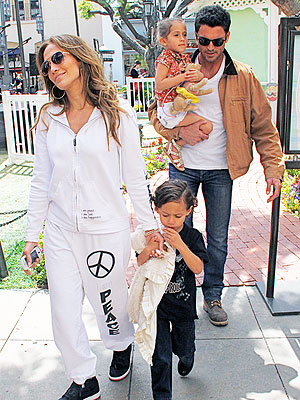 As Jennifer Lopez prepares for her Mega 2012 Tour, she has made one thing clear: she is bringing her 4-year-old twins with her.
"I don't know how that's all going to work. This is my first time. I'm going to see," the songstress, 42, says. "They'll get on the bus with me and it'll be a learning experience for both of us."
But the singer and American Idol Judge has a back-up plan should Max and Emme get bored - Grandma's House!
"Luckily, there's always Grandma's house if they get really tired and stir-crazy. They can go with their grandma for a few days and then come back.
"I can't be away from them for too long, so they'll be with me most of the time," Lopez admits.
Image: Charlie Luciano/Startraks