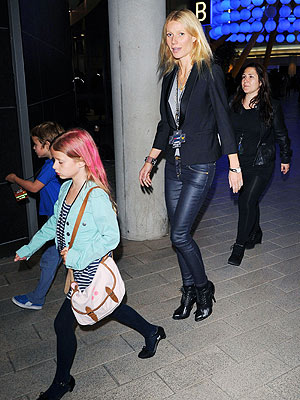 Gwyneth Paltrow took her kids, Apple Martin, 8, and little brother Moses, 6, to see their 'Uncle' Jay-Z and Kanye West's "Watch the Throne" tour Saturday night in London.
What? You are confused about the 'Uncle' part?
Gwen and her hubby,
Coldplay frontman
Chris Martin, are very close friends with Beyonce and Jay-Z. Thus the kids now refer to the singer and father of Ivy Blue as 'Uncle.'
Paltrow tweeted fans from the concert,
"Yup. Uncle Jay at the O2,"
and shared a picture of her kids doing Jay-Z's infamous diamond hand sign.