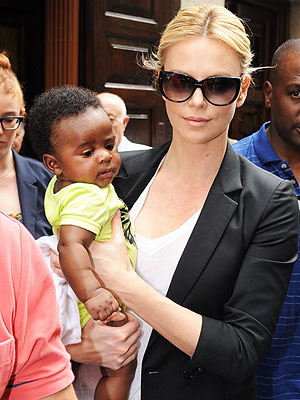 While some dog owners may worry about their pets adjusting to a new baby in the house, this was not the case for actress Charlize Theron when she brought her 9-day-old son, Jackson, home.
"It was the most beautiful thing I've ever witnessed," the actress, 36, tells Ellen DeGeneres on Thursday's
The Ellen DeGeneres Show
. "From the moment this baby came into our home, those two dogs have never been more in love."
The new mom shared how her furry family members are actually helping take care of the new addition-
"Berkley, a terrier mutt,.... he's actually the pacifier thief ... He'll just lay there with the [baby's] pacifier in his mouth, she says. Blue, a Pit Bull, serves as her alarm clock. "He woke up with me for every feed, for every change, and whenever the baby would cry the pit would start crying," Theron says. "He'll do anything for that baby."
The Snow White and The Huntsman
star told Ellen that although she brought Jackson home when he was just 9-days-old, the adoption process took almost two years to complete.
"It really took two years of just waiting and then one day it's finally there. It just feels exactly how it's supposed to feel. I don't know how to describe it. It just feels right."