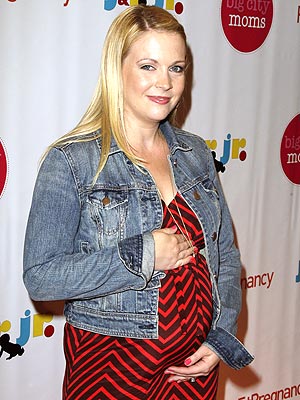 There will be no finding out the sex of the baby for Melissa Joan Hart and her hubby, Mark Wilkerson.
Hart, pregnant with the couple's third baby, says she wants to be surprised when she delivers the baby later this year.
"
We don't want to know. We found out both other times, but this one we want [it to be] a surprise," said the
Melissa & Joey
star, 36, at Wednesday's
Big City Mom's Biggest Baby Shower
in New York City.
The
mom of two sons
, Braydon Hart, 4, and Mason Walter, 6, is hoping to have another natural birth if possible.
"[Mason's birth] was completely medically intervened and I wanted my second one totally different so I did a hypnobirthing class and managed to pop Brady out naturally so that's the plan again, but we'll see."
As for the upcoming
Mother's Day
holiday, the expectant mom is thinking food - specifically dill potato chips, which she says are her biggest craving right now.
"My husband said that he would make anything I want to eat, so we will probably spend the day at home eating all day," says Hart.