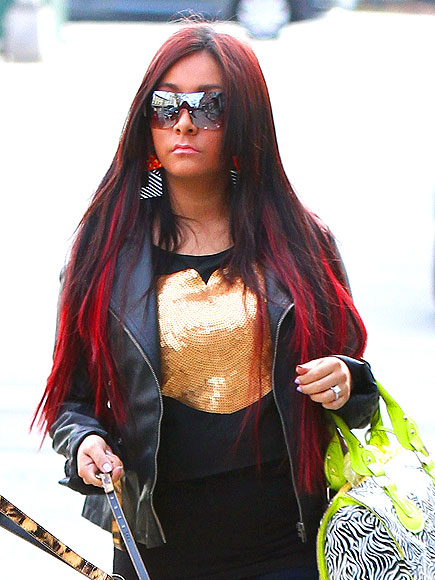 Engaged and pregnant, Snooki showed off her sparkly new engagement ring while out shopping on Monday.
While the Jersey Shore star has kept mum on the pregnancy rumors, People reports that
Snooki's pregnancy
and engagement to Jionni LaValle
,
have both been confirmed by a source close to Snooki.
If indeed she is pregnant with her first baby, we may have hints as to the baby name Snooki, whose real name is Nicole Polizzi, may choose. Back in 2011, Snooki
shared
her favorite baby names - Gia and Isabella for a girl, and Tony and Frankie, for a boy.
Snooki also told men's magazine
GQ
in November 2011, that she'd also think about honoring her now-new fiancé, Jionni LaValle, by naming the child Jionni Jr.
[Pacific Coast News]