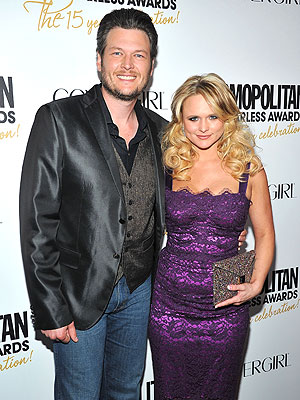 They are getting ready to celebrate their first wedding anniversary, so the typical
'when are you guys going to have a baby?
talk is getting louder for Miranda Lambert and Blake Shelton.
Still technically newlyweds, Miranda and Blake say they have actually talked about having a baby -
in about two years or so, that is.
"We just spent a week together in Oklahoma and we actually talked about that. I think we both agreed that we're a couple of years away from seriously talking about that," Sheldon told reporters recently.

There is a lot [career wise] that is happening right now and it only happens once," continued Shelton. "We want to enjoy this and be able to focus on our careers so when it is time we'll be ready to sit around and watch that happen."
But when the couple do decide to have a baby, Shelton already knows what kind of mom his wife Miranda will make.
"

If she's anything with an actual human being like she is with the dogs, the kid's going to be golden."