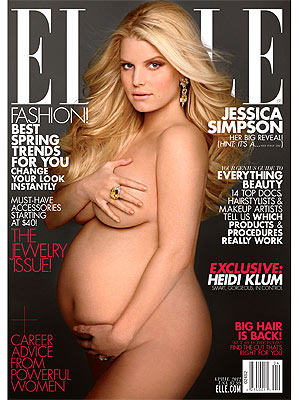 Jessica Simpson
is
having a girl
, and the first time mom-to-be confirmed it herself when she revealed the sex of her baby during a photo shoot with
ELLE Magazine
.
"

I swear, I will croak if she asks me for a pair of Nikes instead of Christian Louboutins!" Jessica tells Elle.
Eric is so athletic — we're gonna have this athletic girl and I won't even be able to take her shopping, 'cause all she's gonna want is sports bras and Nikes!

"
And the
Fashion Star
mentor even shared some hints as to the 'untraditional' baby name she and fiance Eric Johnson have picked out for their daughter.
"

It's nothing shocking and nothing you'll have to add to the dictionary. Still, when people hear it, they'll know … why.

"
[ELLE]