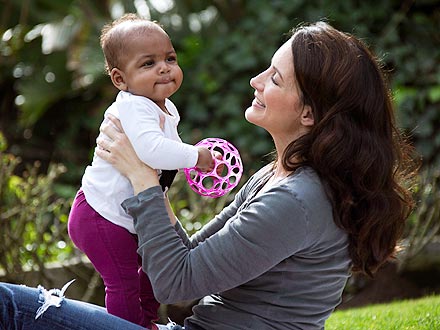 Kristen Davis is simply and completely in love with her latest role in life: mommy to her recently adopted baby daughter, Gemma Rose!
"It is the most rewarding thing I've done in my life," shared Davis recently

.
"We don't have our teeth yet. We're trying to crawl and talk, but haven't mastered either," says the new mom, adding, "Life at home is great. She's super healthy. She's a very good baby. Content. She's perfect and beautiful."
The Sex and The City
actress says she plans to keep the not-so-blissful moments of motherhood and babyhood to herself however - "I don't want to tell any embarrassing stories about her — I always feel like that's not fair, because she can't defend herself yet."
Kristin can be seen in her newest film,
"Journey 2: The Mysterious Island"
co-starring Dwayne "The Rock" Johnson, Vanessa Hudgens and Josh Hutcherson.