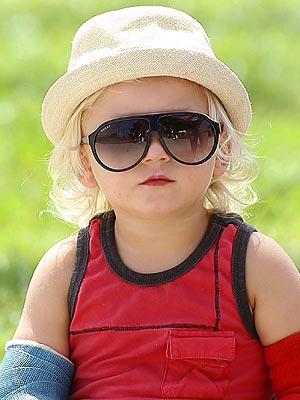 Who can resist the cuteness that is
Zuma Rossdale
, especially when the 2 1/2 year old tot is rockin' his new sunglasses!
Zuma, cast and all, enjoyed some park play June 23 with his big brother, Kingston (5)--also a cutie in his own right!
Those seriously awesome children's sunglasses Zuma is sporting come from a new Gucci collection. The pair are called the
Pilot Frame
($140) in black — and they feature the design house's adorable teddy bear logo.
Yay! for
celebritybabies.people,
who have pointed out a similar pair of sunglasses for children that are more affordable at just $2.99-- the
Aviator Sunglasses
($3) from
The Children's Place.
Credit: Splash News Online