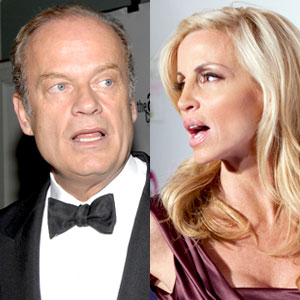 There has been
some
progress in the custody dispute between
Kelsey Grammer
and his ex-wife, Camille, finally. The best news is that their two children, Mason, 9, and Jude, 6, will not be separated as was suggested at one point by lawyers for Kelsey.
TMZ
reports that according to a
temporary
agreement,
Camille
will have both children with her for longer periods of time than will Kelsey due to the actor's busy work schedule.
Earlier this year the Frasier actor suggested he take the couple's son, Jude, 6 and Camille take their daughter, Mason, 9. Camille argued the arrangement would interfere with her her son's education.
Sources say the underlying issues between the couple have not been resolved -- i.e., money and permanent custody.
Camille is bitter at the way Kelsey has treated her and the kids, while Kelsey is angry because he feels Camille has been disrespectful to his new wife.