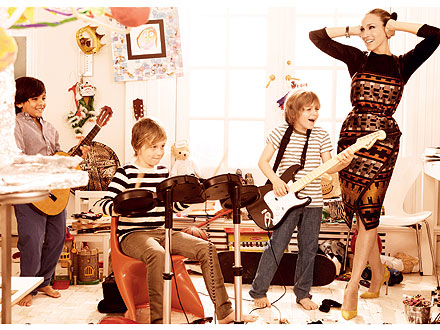 "We don't have any live-in help. We're pretty hands-on parents,"
"That's something that's important to both of us, and we don't shirk it, because what's the point in having a family if you're not going to really participate in it, you know?"
So says actress
Sara Jessica Parker
in the August issue of
Vogue,
where the
Sex and the City
star shares her thoughts on parenthood and raising a family.
Parker, who is mom to James Wilkie, 8½, and 2-year-old twin daughters Loretta and Tabitha,
adds-
"It wasn't hard when I didn't have children," (shooting Sex and the City) "I loved it. But I ultimately chose to stop doing the television series because I felt like it required, and deserved, a lot of time when I really wanted to be a parent."
Being a mom in her forties with young children, Parker reflects on the benefits of having kids later in life-
"I guess I think there are things about it that I hope have made me a better mother," she says. "I've had a lot of opportunities to do the things that I wanted to do, like sleep. I have slept till 11:00 for a lot of years."

"Honestly, the only thing that I'm concerned about is the energy: I hope I can maintain the energy," she adds. "I think about all the years I've spent parenting James Wilkie and everything I put into it, and there are two of them."
Parker, who is married to actor Matthew Broderick, has a new film coming out,
I Don't Know How She Does It.
In the movie she plays a
very familiar
role- that of a successful businesswoman and mother who balances a busy career and family life.
Credit: Mario Testino/VOGUE