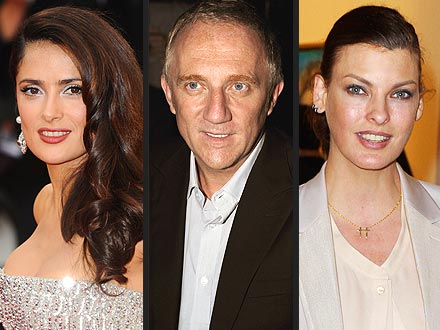 Court papers recently filed by supermodel Linda Evangelista show that the father of her 4-year old son James is
François-Henri Pinault, who is the husband of actress Salma Hayeck.
Which now means that Hayek's daughter, Valentina Paloma Pinault, 3, has a second half-brother.
Salma Hayek and Francois-Henri Pinault dated on and off beginning in 2006. The couple finally married in 2009, but it took several break-ups before they made it to the alter. Reportedly, it was during one of their splits when Pinault and Evangelista got together.
Evangelista, who up until recently never revealed who was the father of her son, has filed a petition seeking child support from the French businessman, 49.
"In the filing, it says the child 'was born out of wedlock to [petitioner] Linda Evangelista, 46, and that [Pinault] acknowledged [her] allegation,' " a source familiar with the filing
tells PEOPLE.
"It says, 'It is decided that Pinault is the father of [Evangelista's son], Augustin James.' "
The Pinault family's luxury goods empire is reportedly worth $16-18 billion. Pinault's 2010 salary was $5.4 million, according to
Bloomberg Businessweek
.
In New York, where the court papers were filed, the law requires a father to pay 17 percent of what he earns in child support. This would mean Pinault should owe around $920,000 for that year.
So far, there has been no comment from Salma Hayek or Linda Evangelista.



Credit: Anthony Harvey/PictureGroup; Dominique Charriau/WireImage; INF