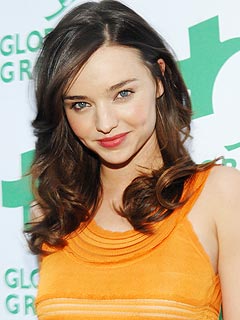 Miranda Kerr
says her name for baby Flynn was inspired by her high school sweetheart, Christopher Middlebrook, who passed away in a car accident when he was just a teenager.
"Chris and I had been dating for two years," she says. "After he died, I wrote him a letter that said I hoped to name my first child after him in some way. I told Orlando, and he was the one who said he'd be happy to do that. Orlando's a good guy."
When baby Flynn arrived, Miranda Kerr and husband Orlando Bloom named him Flynn Christopher Blanchard Copeland Bloom.
Recently the Victoria's Secret model spoke out about her painful labor, lasting 27 hours, that she experienced while giving birth to Flynn:
"I've never been through so much pain, but I was totally present the entire time, focusing on my breath and meditating," she says. "I kept thinking, how do women do this? But if other women have done this, I can do it, too. I was determined.
"I actually thought I was going to die at one point and left my body. I felt as if I was looking down on myself – the pain was so intense. Then he came out and we met, and it was the best thing. I think once you go through something like that, nothing else fazes you – it puts everything into perspective."
And she gives her husband, Orlando, much of the credit for getting through her 27 hour labor without any medication:
"Orlando was by my side the whole time," "I couldn't have done it without him. Just to have his support was a really wonderful experience."
Kerr says she is grateful to be able to take six-month-old baby Flynn to work with her - recognizing that not many moms get to do that. In fact, since his birth, mother and son have not been separated:
"We spent every minute together, morning and night, for those weeks before I went back to work," she says rocking her precious boy. "He sleeps in our bed every night. I never want to let him go."