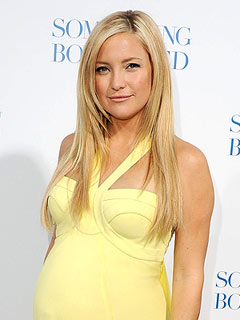 Kate Hudson
and Matthew Bellamy have not announced a baby name yet for their new baby boy
born Saturday night
(July 9).
The
Something Borrowed
actress had a Cesarean Section with her first son, Ryder Russell, 7½, but was able to have a natural labor and delivery the second time around.
Hudson hinted earlier on in
her pregnancy
that the baby on board might be a girl after she did the tried and true ring test to find out the sex of the baby:
"You get a ring and your hair and put it over your belly and it swings," the actress, 32, explains.
"Everybody has different methods … it goes in a circle if it's a girl and it usually goes back and forth if it's a boy. It's saying it's a girl, and I'm carrying so differently than I did with Ryder."
The couple have plans to settle in London while Bellamy's band Muse works on their next album, but are staying in Los Angeles while Hudson recovers from the birth.