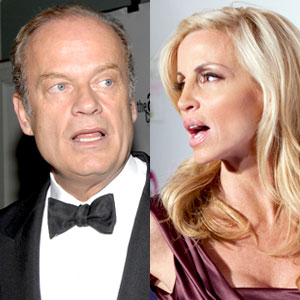 Camille Grammer
celebrated her one year anniversary of her divorce from Kelsey Grammer by taking her kids on vacation to Hawaii. The Real Housewives star
says
she's has much to be thankful for this holiday weekend:
"What can be better than being with my kids in Hawaii over the
holidays? Nothing!"
"

It's been one year today I filed for divorce, I feel liberated!'
Unfortunately, though, the bitter custody battle between Kelsey and Camille continues on. Both parents want sole custody of their two children, Mason, 9, and Jude, 6.
Legal documents that were filed with the Los Angeles Superior Court reveal that both Kelsey, 56, and Camille, 42, plan to testify in person at an upcoming custody hearing. In addition, the Frasier actor has requested that the judge seal all documents pertaining to the case and all details that relate to the children.
While Kelsey and Camille both agree that a custody evaluation should occur in the case, but they can't agree about who should do it, so they are requesting the judge to decide that matter.
The custody trial is expected to begin in August or September. A pretrial hearing is set for July 27.
Credit: Marc Stamas/Getty Images; hahar Azran/Filmmagic