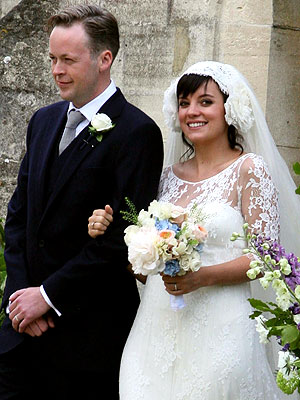 Newlyweds Lily Allen and her husband, Sam Cooper, are expecting a baby! The happy couple, who were married Saturday at St. James the Great Church in Gloucestershire, England, announced the baby news at the wedding reception following the ceremony.
Happy exciting news for Allen, 26, who suffered a miscarriage seven months ago.
Wearing a
gown with long lace sleeves and a fishtail skirt by French designer Delphine Manivet, the bride was given away by her father, Keith Allen, and then carried a bouquet of white roses as she made her way out of the church with her new husband to a waiting car as a crowd cheered.
"It's beautiful that she is pregnant, and I am very happy for her. She is very happy about that – it is something wonderful," Manivet told British paper The Telegraph. "For me, and for her too, when you're pregnant you want to show that, but also be respectful, so the dress was perfect for her for that moment."
Congratulations going out to the newlyweds and parents-to-be!