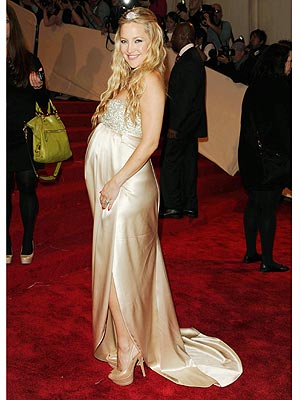 With her
baby's due
date
getting near, Kate Hudson was ready for her baby shower this past weekend! Gifts and decorations were in all the traditional baby colors of pink, yellow and blue, since Hudson is keeping the
sex of the
baby
for a delivery room surprise. Among the guests at the family style party were Courtney Cox, Rachel Zoe and Nicole Richie (who brought her adorable kids with her,) Olivia Newton-John, and Mel Gibson.
The event, hosted by Tobey Maguire's wife, Jen Meyer, and
90210
's Sara Foster, was held at a Spanish-style ranch located in the same gated community that's also home to Camille Grammer.
We hear there was plenty of good food and fun shower games, including a name-guessing game. A source tells
Celebrity BabyScoop
:
"It was hilarious and got a lot of laughs out of everyone! It was such a fun party -- and people stayed for hours."
This is the first child for Hudson and her
soon to be
husband, Matthew Bellamy. The actress is also mom to son
Ryder
, 7, whose father is Kate's ex, Chris Robinson.