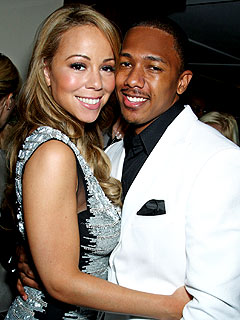 Mariah Carey and her twins were released form the hospital this past weekend, are at home enjoying being a family together.
On Saturday, an excited Nick Cannon spoke at the KIIS Wango Tango concert in Los Angeles, telling Access Hollywood:
'My twins came home [today]. I didn't even want to leave, but I had to because I've got to be here,' Cannin t
'It's the first day to have my children at home, so I have been loving that.' The America's Got Talent host added: 'It's a whole other level now because they're at home. There's no hospital rooms, and there's no nurses, it is just us. So, it's real. It's a little scary at times, but we're handling it.'
As for new mom Mariah, the pop star, 42, who
welcomed twins
Moroccan Scott and Monroe April 30, admitted she is "on a tweet spree," but it's out of excitement about being home from the hospital.
"Dembabies aka Roc+Roe are sleeping peacefully: )," she
wrote on Saturday
about the babies.. "I just finished singing 2 them(softly!) Feeling so blessed. LYM : )x0x0."