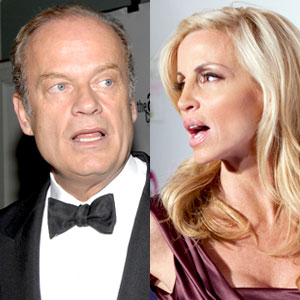 Kelsey Grammer has filed for sole physical custody of the two children he has with ex-wife Camille Grammer.
Why is
the Frasier star trying to take the kids away from Camille? According to custody papers filed by Kelsey last Friday, the children—Mason, 9 and Jude, 6—have been having a tough time emotionally since the split and Kelsey's subsequent new marriage, and he wants them to have a stable environment to live in.
The filing, which offers Camille
time with the kids
during half of their summer and half of their winter break, asks for the new custody agreement to begin after July 2,
Camille has said that she was willing to work out a shared custody agreement with her ex after their divorce, but he was uncooperative, and she has since been a full-time mother to the children. Now the Real Housewives star says she will fight for full custody of her children:
"She will fight like hell to keep her children with her, being raised by her, exactly where the children wish to be," a close friend of Camille's told

People Magazine

.
And Camille is confident that the court will grant her full custody, as Kelsey "abandoned his family and got married within months of separating from Camille, all of which speaks volumes about his parenting and his respect for his current children."
"Camille looks forward to a full and complete professional evaluation," the friend adds, "which she is more than confident will show her to be the more appropriate person to be primarily responsible for the custody of the children."
Grammer currently lives in Chicago while Camille resides in Los Angeles, where their two children attend school. When contacted by the press, Grammer's rep declined to comment on the matter, except to say that "any statement would be inappropriate. The filing speaks for itself."
A hearing is set for June 27.
Credit: Marc Stamas/Getty Images; hahar Azran/Filmmagic