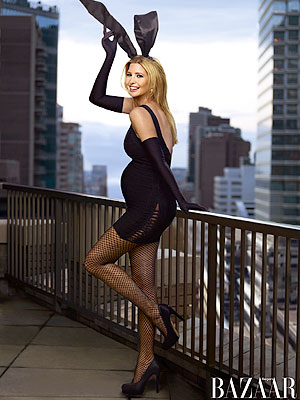 Pregnant with her first baby, Ivanka Trump has divulged her due date: July 14! And the baby is a girl! Trump, the daughter of Donald Trump, shared her baby news in the June issue of
Harper's Bazaar
.
The first time mom-to-be also talks about cravings, baby books and how she is getting ready for baby:
"I do have a bit of first-time-mom syndrome," she admits, chuckling over the piles of books on pregnancy, mothering, and early-childhood development she's assigned herself.
"I'm already on what I should be doing when she is three and when I should introduce new languages," including French and Mandarin Chinese.
Ivanka admits that keeping her daughter from getting spoiled will be a bit challenging, but she and husband, Jared Kushner, plan to ensure their "daughter is grounded and not spoiled."
The Celebrity Apprentice judge also chats about breastfeeding and her surprise at how often newborn babies nurse:
"I was in total shock," Trump says. "I work so close [to home] that I figured I'd return to work and the baby nurse would bring the baby to me, and I'd run home periodically, and I'd make it work. But every two hours? That's a whole other level," she says. "I'll have to make a nursery at the office."
And that nursery may be in use for quite some time-
"I'd love to have three or four kids," says Trump. "But my mom always says, 'Speak to me after you have your first.'"
Martin Schoeller/Harper's Bazaar