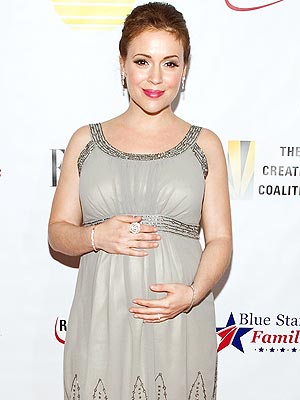 Alyssa Milano says her pregnancy cravings are nothing exciting, but the expectant mom is enjoying things like broccoli and pizza. The actress, who is expecting a baby boy this fall, took time to share some baby talk with People Thursday before a private dinner honoring The Creative Coalition at the Ritz-Carlton in Washington, D.C.
"I'm still craving boring things like broccoli and pizza, which isn't much different from my normal diet. I'm a vegetarian, but I do eat cheese," she shares. "No outrageous cravings. My doctor just told me she once had a patient that drank pickle juice – I don't have that!"
Milano also shared about her growing baby belly, and how much she and her husband, David Bugliari, are enjoying the ultrasounds at her doctor visits:
"Watching him shift from one side to the other is pretty bizarre – but it makes me giggle," she says. "Every time I get an ultrasound, he's doing really funny things like sucking his thumb or elbowing me."
And as for baby names? The mom-to-be is not giving away the 5 top choices on her baby name list, yet. But she adds that she and her husband will not settle on a name until they meet their little boy-- sometime this Fall.
And if you are loving the soft grey maternity dress that Alyssa is wearing, it is from
Pea in the Pod
!
Paul Morigi/WireImage